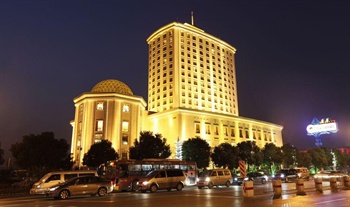 Suzhou's Platinum Hanjue Hotel (Baijin Hanjue Dajiudian) is situated near the beautiful Yangcheng Lake (Yangcheng Hu). It takes just 10 minutes to reach Suzhou North Railway Station, where high-speed trains to Beijing and Shanghai depart. Guanqian Street, a popular local attraction, is just 10 km (6 mi) from the hotel.
Guests can enjoy their meals at the on-site Chinese restaurant, open 24 hours a day, or at the Western restaurant. The coffee shop and bar make for great places to catch up with friends over a beverage.
Business banquets, functions and gatherings can be held in the hotel's banquet/conference halls, while the business center can take care of any basic business needs.
Guests can fine tune their singing skills in a karaoke room, or relax with a cup of the local blend in the tea house. This Suzhou hotel provides free in-room Wi-Fi access.